The Most Ukulele Clubs & Groups Under One Roof!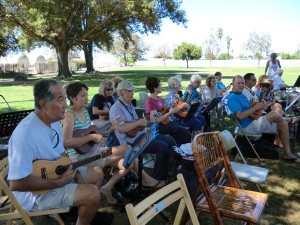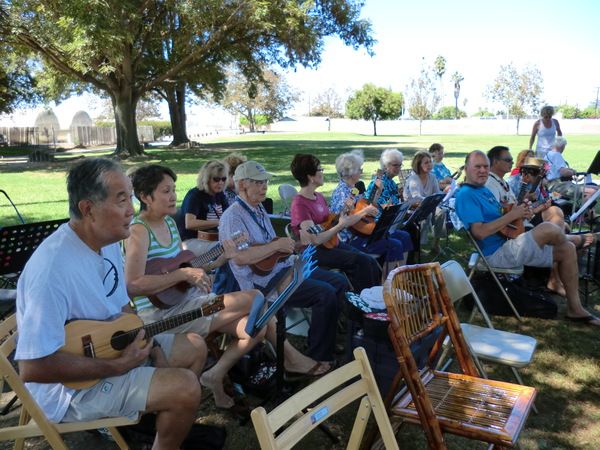 Join Us Today! With many different musical genres and formats, you will find hours and hours of strumming opportunities to join in the fun! Make music and new friends ukulele style! Click on the group below for more information:
SURF CITY STRUMMERS Meets every Sunday ($5 Requested)
EZ DOZEN Meets the 1st and 3rd Mondays of every month
UKULELE ROCKS! Meets the 2nd and 4th Mondays of every month
KOLOHE Meets every Tuesday
BEGINNER & BEYOND Meets every Wednesdat
UKULELE JAM Meets every Thursday
BLUES, COUNTRY & FOLK Meets 2nd Friday of every month
GOSPEL NIGHT Meets last Friday of every month
GUITAR CIRCLE Meets 1st & 3rd Saturdays 10:00am – 11:30pm
STRING THING Meets 2nd & 4th Saturdays 10:00am – 11:30pm
LAVA LAMP LOUNGE OPEN MIC NIGHT First Saturday of the month
PLEASE NOTE: group meeting times may change due to holidays or special events.
---
SUNDAYS:
Surf City Strummers
Sunday afternoons 2:00pm to 4:00pm
Wind up the weekend the right way…the surf city strum way! We play standards of all eras and have opportunities to solo, also. About 40 players show up each week to end the weekend right. Please join us.
If you're visiting the Southland from out of the area, please come!
Music…and the best snacks!!!

Group Leader for Surf City Strummers, SHIRLEY ORLANDO
A $5.00 fee is requested.
---
MONDAYS:
EZ Dozen
1st & 3rd Monday nights 6:30pm to 8:00pm
Popular standard songs using only one dozen simple chords. Great for beginners, or just kicking back and strumming along.
WHY? Folks learn the ukulele to have FUN.
They learn a "DOZEN" chords and at the same time a few easy songs that include those chords. What makes the uke such a HOOT is playing and singing with others! Making music!!! Seeing the need for a more beginning/transition group, "E Z DOZEN" was formed. It's NOT a class, lesson or teaching experience (though these things can happen); it is simply a place to PLAY, SING and have FUN with the uke!
WHAT? A group that meets every other Monday for 1.5 hours with a leader who leads the group through ONE SONG AFTER ANOTHER. Voices are provided by US, and accompaniment is also by US! The group will NOT get harder and harder as time goes by…when you "outgrow" EZ DOZEN it's time to advance to another group.
HOW? Attendees should know IN ADVANCE the following chords:
C, C7
A, Am, A7
F
D7, Dm
G, G7
E7, Em
Say, that's a DOZEN chords…how about that?! There are countless great songs that use just these chords…plenty to play and enjoy!!! We'll stick to 12 chords!
E Z DOZEN will play out of Jim & Liz Beloff's great group book "The Daily Ukulele." It has 365 songs and MOST can be played using our dozen chords. Each player will need to bring their own book. If you do not have one, Island Bazaar will sell you one, and if bought through Island Bazaar the buyer will get 3 entrance tickets to E Z Dozen.
HOW MUCH? To help support Island Bazaar (keeping open, utilities, rent, etc.!) a $5.00 fee is requested. Supporting I.B. is important considering all it gives to the OC and SoCal ukulele world.
Your host for the evening: ED FAGENSON
A $5.00 fee is requested.
"The Daily Ukulele" book is needed for this group. Book Cost $34.99 plus tax.

---
Ukulele Rocks!
2nd & 4th Monday evenings from 6:30pm to 8:30pm
Come and enjoy your hosts, Eric Akau & Eric Smith for a rompin' rockin' evening at Island Bazaar. Great old standards and contemporary rock tunes for the young or the young at heart.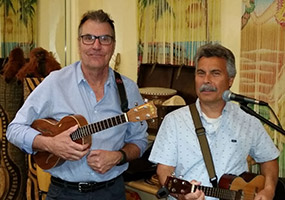 Group Leaders: ERIC AKAU & ERIC SMITH
A $5.00 fee is requested.
---
TUESDAYS:
KOLOHE 'UKULELE CLUB
Tuesday evenings from 7:00pm to 9:00pm

Kolohe 'Ukulele Club invites ALL levels of 'ukulele players to join us for Hawaiian style music!
KOLOHE 'UKULELE CLUB was formed in 2000 & meets for practice at "ISLAND BAZAAR" in Surf City U.S.A. every Tuesday Nite of the month at 7:00pm.
KOLOHE has performed at the Southern California Ukulele Festival, the Tiki Beach Fest in Belmont Shore, the Asian & Pacific Islander Council Banquets, the San Dimas Ho'Olaule'a, Aloha-Cruz Island Beach Shows, Bob's Ohana Hawaiian Style Resturant, for many'a Lu'au, Halau performances, festivals, & other functions.
Ukulele Girl Remembah; "Mo 'Ukulele, Mo Beddah" .. Mahalo Nui Loa & A Hui Hou
About Kolohe Director Doug Ramsay:
"Rude" Doug Ramsay is the 4th director of Kolohe Ukulele Club. The club was started in 2000, by a small group of enthusiasts of Hawaiian Music, and of the ukulele. Doug's background consists of mainly vocal music, singing through elementary, Junior High, and High School.
He learned three chords on my Dad's uke when he was 8 years old, and put it away. In 1998, he bought a ukulele "for his Son", and found himself playing it more than he did. He began playing with Kolohe Ukulele Club in 2004, then directed by Andrew McLaughlin.
Doug says, "The ukulele has connected me with the most unbelievable people, and has (nearly) cured me of stage fright. I encourage others to push limits, expand abilities, and gain confidence."
Players of all levels are invited to join us in discovery and enjoyment of Hawaiian Music.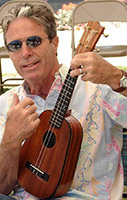 Group Leader DOUG RAMSAY
Performance Coordinator: BOBBY TOMEI (714-393-3796 or ukerascals@aol.com)
A $5.00 fee is requested.
---
WEDNESDAYS:
BEGINNER & BEYOND BEGINNER CLASSES
Wednesday evenings 6:30pm and 7:30pm

$72 for six week class. Classes 1 hour each. Learn 20 chords, 20 songs.
---
THURSDAYS:
Thursday nights 6:30pm to 8:30pm
Spreadable, but not edible, Ukulele Jam meets every Thursday night (except for major holidays) at 6:30PM at Island Bazaar in Huntington Beach. We play for two hours. Ukulele players of various levels of ability welcome.
40 to 50 ukulele players come and strum their hearts out every Thursday night. We also feature three or four soloists per session. This group is a real kick in the pants playing music from the 20's through the 70's and beyond. Please join Shirley Orlando, and the rest of the Ukulele Jam folks for a great time, and quite possibly a very positive life-changing experience.

Group Leader SHIRLEY ORLANDO
A $5.00 fee is requested.
---
FRIDAYS:
Blues, Country & Folk
2nd Friday of the month at 7:00pm.
Bring your Ukulele, guitar, mandolin, fiddle, or harmonica and get ready for some "foot-stomping", "Save the world", "My baby left me on the street corner, stole my money and my pick-up truck" Music! Join us the 2nd Friday of every month for a foray into musical Americana. Bring your instrument and a music stand.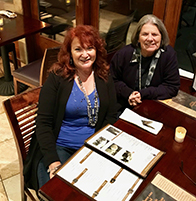 Your group leader is LEAZA HOWE accompanied by an on stage crew of expert singers/players.
A $5.00 fee is requested.
Gospel Nights
Last Friday of the month at 7:00pm.
Join Leaza & her wonderful stage crew for a sing and strum that will leave you more than a little bit inspired. Last Friday of every month. Do I hear "Amen!" Bring your Uke, your guitar & a music stand.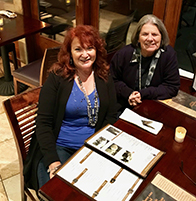 Your group leader is LEAZA HOWE.
A $5.00 fee is requested.
---
SATURDAYS:
Island Bazaar Guitar Circle
Saturdays 10:00am – 11:30pm
Join guitar enthusiasts in a laid-back morning jam, learning from and serenading each other! Members can contribute songs and add to the repertoire.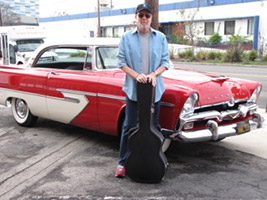 Your leader for the morning, BILL WASSERZIER.
A $5.00 fee is requested.
String Thing
Saturdays 10:000pm to 11:30pm
For a virtual potpourri of tunes from country, rock, folk and anything in between. Members share their favorite tunes and work them out together.
For ukuleles players and soft acoustic guitar (No amplified instruments)
We are an equal opportunity musical group. We welcome and enjoy everybody without regard to experience, talent, or singing ability.
Here's what we do: we sit in a circle. Each person chooses a song and leads it. You may choose a song that's already in our songbook, but if you wish to bring a new song please make enough copies so everyone can have a sheet! We're growing, so 25 copies should be enough. New Stringers can share songbooks with the folk who have them. You can buy our songbook for $20.
Please note…from the beginning, Shirley has asked us to use only string instruments (no horns, no percussion except shakers) and to play them unamplified.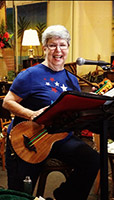 Your leader is ALICE FOWLIE.
We ask a donation of $5 per person to help support our host, Island Bazaar.
Lava Lamp Lounge Open Mic Night
First Saturday of the month 7:00 to 9:00 (Except Holiday Weekends)
You are invited to Island Bazaar for Open Mic Night on the first Saturday each month. Ukulele players, guitar players, keyboardists, folk singers, rockers, and musicians of all styles and skill levels can showcase their talent. You bring the talent and we provide the stage, mics, and a professional sound tech to make you sound great! The Lava Lamp Lounge at Island Bazaar is an all-ages venue featuring a warm and welcoming atmosphere. Not interested in performing but want to enjoy a night out? Come out to support our performing artists!
First Saturday of the month 7:00 to 9:00 (Except Holiday Weekends)
Signup 6:30
6 minute time limit (setup and song)
House band available for backup (bring extra lead sheets)
Coffee and snacks provided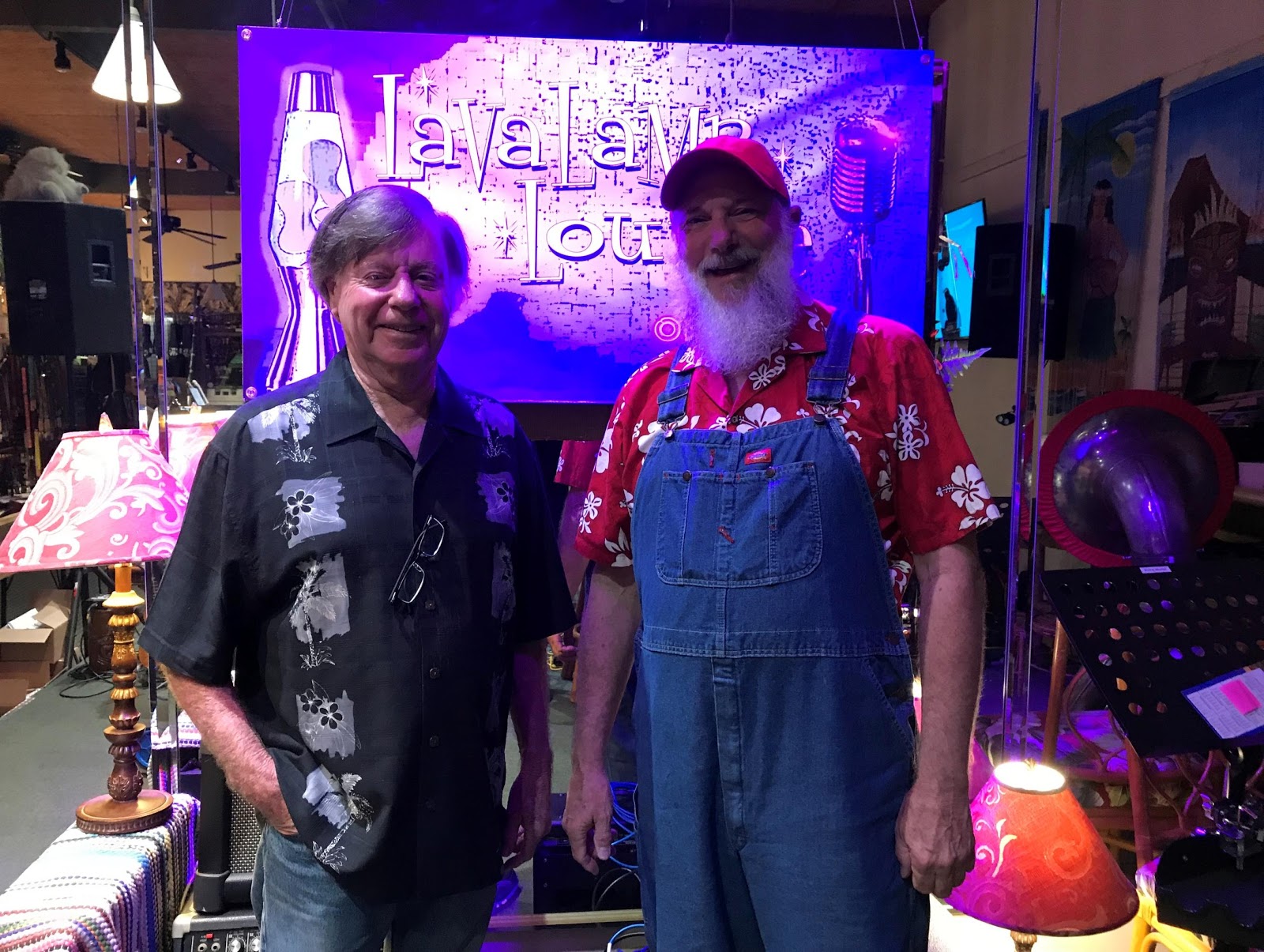 Hosts: Rod and Lyndon
To subscribe to our mailing list please reply to lyndonjohansen@gmail.com with the subject "Subscribe Island Bazaar Open Mic"